The most efficient means for UC Berkeley international students to pay their student billing account is through Western Union's International Funds Transfer.  This simple and secure payment option allows you to choose a foreign currency, obtain a locked-in, competitive exchange rate, and, when completed, have the payment credited directly to your student billing account.
Advantages to using Western Union's International Funds Transfer include:
There are NO transaction fees from Western Union or UC Berkeley, though you may be charged a transaction fee by your bank. However, since the Western Union transaction is in-country, the fee may be less than an inter-country wire transfer.
You will not be charged additional fees by 'intermediary' banks reducing the funds UC Berkeley receives. This ensures UC Berkeley receives the amount you intend to pay; there are no hidden fees.
The exchange rate is competitive when compared to most bank retail rates.
Payments include all of the necessary reference information for the payment to post directly to your student billing account.
Payments will be transmitted electronically to your student billing account, ensuring timely posting, typically 2 to 5 business days after you initiate the payment. The traditional wire transfer from your bank to our bank requires manual posting which causes delays.
The Western Union exchange rate is valid for 72 hours after the transaction is initiated, taking the uncertainty out of the total payment amount.
To Make a Payment in Foreign Currency
STEP 1   GET READY
Determine how much you are going to pay on your student billing account. Your account balance can be viewed on the 'My Finances' tab in CalCentral  https://calcentral.berkeley.edu.
Enable pop-ups in your computer's browser. If pop-ups are blocked, you may not be able to see the payment instructions at the end, so be sure to elect to have a copy sent to your email address.
STEP 2   LOG IN TO CALCENTRAL.BERKELEY.EDU

See the 'Billing Summary' section
Select the 'Make Payment' button. In the payment portal, select 'Pay' to initiate the transaction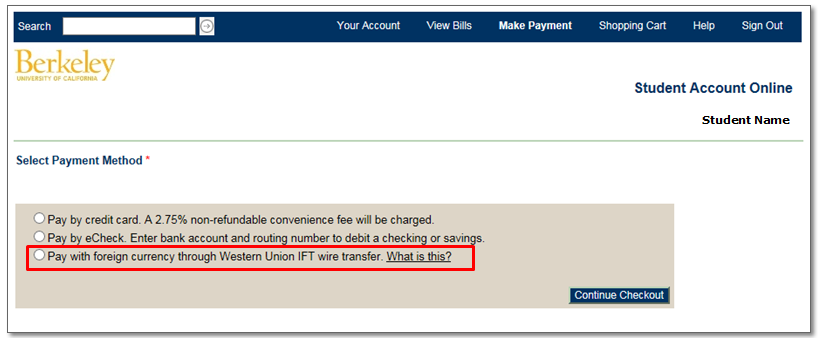 Select 'Pay with foreign currency through Western Union IFT wire transfer'
STEP 3   GET QUOTE
Select the country that you are initiating the payment from
Select a foreign payment currency. (If your currency does not display, select US Dollars and select ok on the pop-up to continue the transaction)
The quote for the foreign currency total will display
Enter the remitter's name and email address; this is where you will receive the payment quote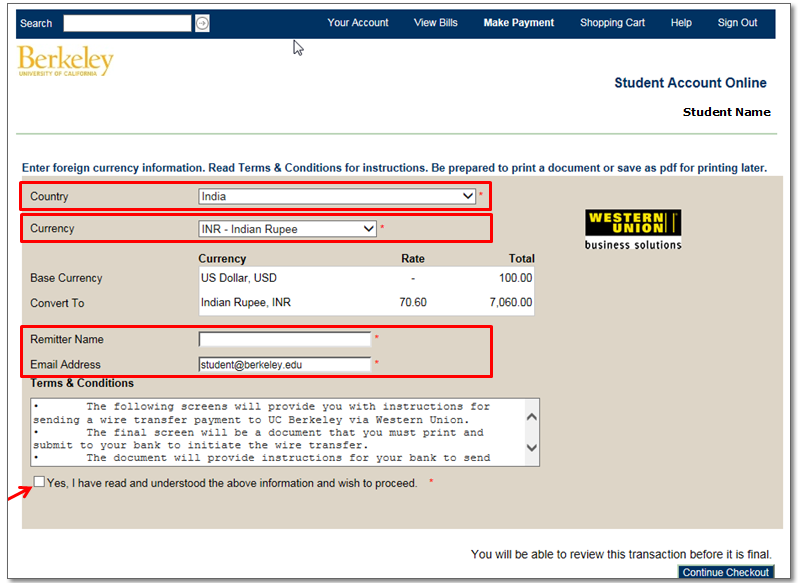 Mark the checkbox to indicate you have read the informational box
Click Continue Checkout
STEP 4   TAKE INSTRUCTIONS TO YOUR BANK
Within 72 hours, print the instructions and the receipt available in CashNet. Take this to your local bank to authorize a bank-to-bank transfer; be sure to take along a valid proof of identity.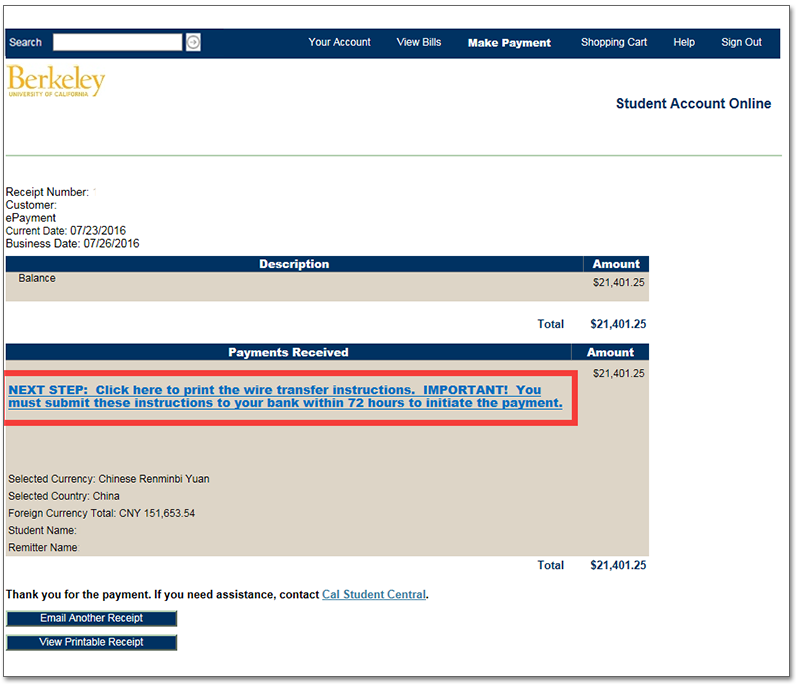 Your local bank will transfer the funds to Western Union's local bank
Western Union will transfer US dollars to UC Berkeley once the funds settle (allow 2-5 business days)
Confirm receipt of payment to your UC Berkeley student billing account: CalCentral > MyFinances > Details
*If your local currency is not an available option, you will need to select US Dollars (USD) to complete the transaction. Important: Once USD is selected, you will receive a popup. Ensure popup blocker is removed in order to complete the process.
Questions:
If you have questions about your student billing account, contact Cal Student Central
Phone: 510-664-9181
Address: 120 Sproul Hall, Berkeley, CA 94720
Hours: Monday – Friday 9:00am – 4:00pm (phones closed Noon – 1:00pm)
Email: Open a case